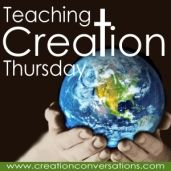 I apologize for not getting up Part 2 of Folded Mountains, last week. Sometimes life just gets in the way.  If you missed Part 1 of Folded Mountains, you can go HERE to read it.  Cheri Fields has graciously allowed us to share about Folded Mountains.  Be sure to visit her blog, Creation Science 4 Kids to see more information about God and is His creations.  Cheri has a wonderful blog, filled with all kinds of information to help children understand and to help parents teach about creation.  Now let's move on to Folded Mountains, Part 2. 
Folded Mountains, Part 2
We know that there are 4 kinds of mountains:
Volcanoes
Highlands surrounded by eroded valleys
Raised up crustal Rocks (with 2 sub-types, domes and fault-block)
Scrunched up crustal Rocks
This week we're learning about this fourth type: Fold Mountains. Not only are these whole ranges folded, but many of them have some amazing folded rocks in them. I saw some of these enormous folds while visiting the Rockies around Grand Cache, Alberta. Unfortunately, I didn't have a good camera with me to show you pictures, but you can have a look on a search engine and view some spectacular photos.
How do you get huge sheets of rock to fold up like this without breaking them in pieces?  Turns out rocks don't always break when they are being forced to change direction.  I had to search and search to find these things out, but it turned out that the page above mentions all 5 of the commonly taught causes for rocks to bend without breaking (called fracturing).
(1) Softer rocks can bend more than hard rocks like quartz and granite under everyday conditions.
All rocks can bend more when they are (2) hot and (3) pressurized down deep in the earth (15km or more).
But the rocks I'm talking about weren't down deep, they were near the surface when they were pushed together.
Then the Tulane geology page said the Uniformitarians' favorite cause with confusing words.  I found a clearer example of this explanation on a science for 3-6th Graders page, "High temperatures and slow deformation rates favor ductile behavior, while low temperature and fast deformation rates lead to brittle behavior."  In other words,
(4) if you bend the rocks slowly enough, you can keep them from breaking.
To find out how slowly they are expecting the rocks to be able to bend without breaking I had to do even more searching.  I found the answer on a really long, slowloading PDF that would make great geology reading when you get to be a Senior.  Here's what they say,"Like faults, folds form slowly over millions of years, as rock layers gradually yield to differential stress and bend."  Ah, ha, so that's how they explain these things! Just give the rocks a dose of unobservable time and you've cleared up all your problems with folded rocks.  No one can possibly prove them wrong for the next 10,000,000 years or so!
Now for reason #5 (which was rather hard to find on the non-Creationist web, so listen close).  Rocks can bend rather than break when they are… full of water.  Now, when would we have had a lot of water-soaked rocks being pushed together and forced up?  I ran into an Old Earth Creationist site that said this idea of folded rocks being proof of the flood is nonsense because of the other ways to get them slowly.  They mentioned an unnamed chemical "solution" that would make rocks more bendable, but the only chemical I can find that does this is water!
Well, it looks like we're back to what Answers in Genesis and the rest have been saying for years.  Water and soft, young rocks can fold.  Old rocks folding over millions of years?  That takes as much faith as it does to believe what Noah recorded.
Which removes the mountains, and they know not: which overturns them in His anger. Job 9:5
Behold, He withholds the waters, and they dry up: also He sends them out, and they overturn the earth.  Job 12:15
He puts forth His hand upon the rock; He overturns the mountains by the roots."  Job 28:9
These are the main verses talked about in ICR's Great Turnovers! article.
Answers in Genesis: Rock Layers Folded not Fractured Creation Ministries International: Should atheists be free to teach what they believe?; and Folding So...  This one is great with an account of a tree fossil upright through folded layers!
Institute for Creation Research: technical PDF of Tight Fold and Clastic Dikes.  If you take a minute to read the "abstract" you will see that Uniformitarians must believe that sandstone remained soft for millions of years before being bent.
I also enjoyed this fairly simple PDF from 
Highline.edu 
of how rocks behave under strain and pressure with interesting photos.