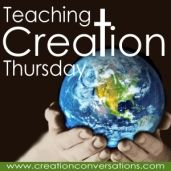 A couple of months ago, we did a review and a giveaway for the Awesome Science DVD, Explore the Grand Canyon with Noah Justice.  My family loved the DVD and I couldn't wait to get more in the series.  It wasn't but a couple of weeks later and I got the Explore Mount St. Helens with Noah Justice.  Just like the first dvd, this one did not disappoint!  It grabbed my kids' attention from the beginning and they did not move until it was over with.
Awesome Science is a Christian homeschooling family owned company.  They take families on an adventure around the world to explore geologic and historical evidence that supports the accounts of the bible.  The series is hosted by teen, Noah Justice.  I really think he is one of the reasons why my kids enjoy these dvd's so much.
In the Explore Mount St. Helens dvd, Noah will take us back to that day on May 18th, 1980.  You will observe events that will help you understand the flood that the eruption caused, the impact the rapid erosion had and how canyons, layers and petrified forests formed.  
When you order this DVD, you can order a wonderful study guide to go along with it, or you can download the study guide for free at the bottom of the page from the Master Books website.  In the study guide, it talks about Mount St. Helens and what happened.  It gives vocabulary words, questions to ask your kids, true/false questions and fill in the blanks.  It also has bonus activities that you and your kids can do together.  You can definitely use this dvd as a mini unit study.
Now for the fun part, the giveaway!  We are giving away one dvd of the Awesome Science Explore Mount St. Helens to one of you!  All you have to do is enter by the rafflecopter below!  Just click on the blue Rafflecopter link!
The giveaway will end on Friday, March 15th!