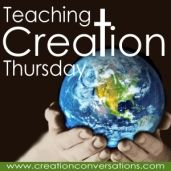 This week, I am sharing with you the Big Book of Earth and Sky.  It is a children's book that is written by Bodie Hodge and Dr. Carolyn Reeves.  This huge hard back book has a special surprise when you open it up, a 15ft chart that shows the earth from the inner core to the outer core.
This book is designed for kids 7-12 years of age.  However, I think it can be for any age.  The parent can definitely sit and read it with younger children.  There are several ways you can use this book.  You can read through it panel by panel, use it as a reference book or use it as a springboard to other learning. 
In this book you will explore the oceans, look at detailed charts and graphs and read about facts on the weather, mountains and more!
The colorful pictures and amount of details in this 15ft book is amazing.  My kids and I have laid it down flat and read everything that there is on it.  We learned all about the Earth's Atmosphere, to the water cycle, to caves, to what the Earth, itself, is made out of.
Most importantly, we loved that it talked about God and how He created everything.
Now is your chance to win a copy of the Big Book of Earth and Sky.  Just fill out the Rafflecopter below!  Be sure to follow all of the instructions!  We will choose a winner on May 31st!