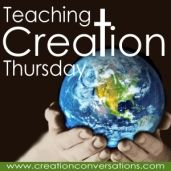 I had a wonderful opportunity to review the book, Children's Atlas of God's World by Craig Froman.  All I can say is, this book is amazing.  My kids and I have looked at it constantly since we received it.  I know you will enjoy it as much as we have.  So let me tell you a little bit about it first.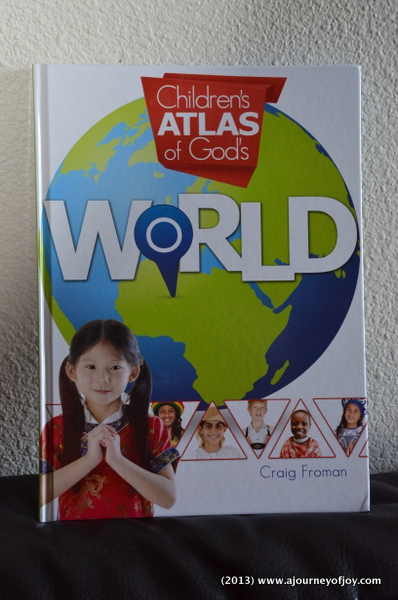 On the back of the book, it has "One-Of-A-Kind children's atlas to explore God's World" and this book really is one of a kind.  The Children's Atlas of God's World is a very colorful and vibrant hard-back book, that is HUGE.  It measures approximately 10"x14"!  I told you it was a BIG book!  The pages are heavy paper with a beautiful glossy look to them.  They are very easy to turn and even wipe off, if any messy hands were to flip through the pages.
In this one-of-a-kind book, you will travel through all seven continents.  As you travel through the continents in the book, the author also will talk about many different countries.  Mr. Froman has given you a key in the Table of Contents of things to look for and read through as you read through each section.
Christian History and Tradition is marked with a flag with the Cross on it.  This talks about Christian history, people of faith and Christian traditions around the world.

Red

Pins - when you see a red pin in the book, you will find the number pin on the map marking a landmark, river, or other locations.
Green Highlights are words that are just that, highlighted in green.  This is letting you know that it is a city or other sites on the map.
UNESCO World Heritage Sites are marked by green flags.  This is sites recognized by the United Nations Educational, Scientific and Cultural Organization.
Biomes is the last key to look for.  The Biomes symbol will share about the habitats around the world, including forests, deserts, grasslands, tundra and many more.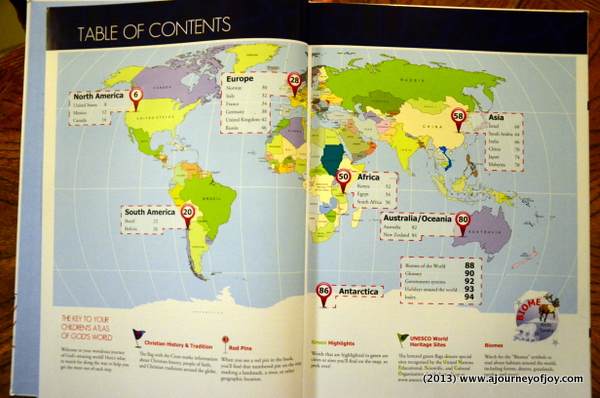 (Children's Atlas of God's World ~ Table of Contents) 
What are some other things that you will find in this book?  You will find out the longest rivers and tallest mountains.  You will read about Christian explorers, missionaries and many others who made a mark in history.  The book tells of the diversity of God's creatures, natural habitats and the animals and plants that live in them.  There are outline maps of the continents and more detailed maps of the countries that are being focused on.  Every page that you turn, you will learn something new about the world that God created!
 (I loved seeing my kids sit down together to read this book)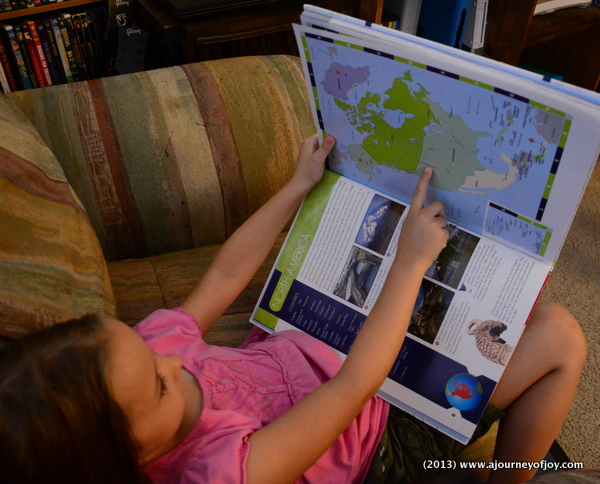 (She was showing me where the Rocky Mountains are located)
Our family has really enjoyed this book since we received it.  I love seeing the kids reading the book, wanting to learn more about the world we live in.  I think it is a great addition to our growing library.  This book will also come in handy when we begin our geography lessons for the upcoming school year.  This book has definitely quickly become a favorite in our home.
Now is your chance to win one of these amazing books!  All you have to do is fill out the Rafflecopter!  Just click on the Rafflecopter link, below!  I will choose a winner next Thursday, August 1st!