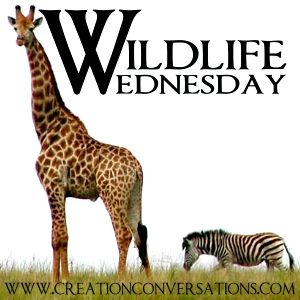 Do you see this sweet, tiny little creature my daughter is holding? It is certainly not a large bullfrog, but a toad nonetheless. We regularly go on nature walks, and a little bit of rain doesn't stop us. In fact, there's a whole new world to explore during and after a nice shower. Frogs and toads (all toads are frogs by the way) are always a top creation creature to be on the lookout for, especially in the rain - my children adore amphibians! When we are near a body of water, even a large puddle - we search for tadpoles, too!

God's design of amphibians is absolutely amazing! It is a topic of study that is sure hold any child's attention. We begin learning about metamorphosis when our children are very young, pre-k and younger, and it is a topic worthy of years of study.

One great way to learn about frogs and metamorphosis is to watch a tadpole grow for yourself. We visited a nursery one spring; they were overcrowded with bullfrog tadpoles in their goldfish pond. The owners were more than happy to donate three tadpoles, one for each child, for us to take home to study and raise. We put our little ones in a fish tank and watched them grow from tadpoles to froglets to full grown toads. Nothing compares to hands on, see it with your own eyes
study!

We also love Master Books' God's Amazing Creatures and Me. It is a devotional for children ages 6-10, though our four year old enjoys the lessons too. In this book, there is a chapter devoted to the bullfrog. It's titled A Deep Voice. I love the way the devotional is set up. We first learn facts about a particular animal, then there is an In the Bible story shared. Next, is an application section titled, How About You? which I absolutely love. This lesson is all about
using your voice to praise God. It's beautiful! Last, is a Memory Verse to learn. In this lesson our memory verse is: Oh, sing to the Lord a new song! Sing to the Lord, all the earth. Psalm 96:1
I also like to try to find a craft activity to go along with what we are studying. I found this super cute frog puppet craft at DLTK. It is just perfect for emphasizing the frog/toad's voice and our voices as well!

One of my favorite free online educational resources is Homeschool Share. There are a few frog/toad files here. One of my favorites is a lapbook devoted to the study of frogs and toads complete with a lifecycle wheel.
For more FREE resources visit the Wildlife Wednesday Group Page to access them along with lots of other great information, freebies, giveaways, a link up and more.

Thank you to Creation Conversations and my friend, Kathy @ Kathy's Cluttered Mind, for inviting us to share with you on Wildlife Wednesday!